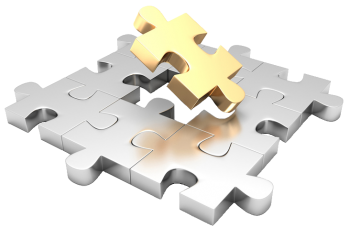 Knowledge, experience and innovation yield results
I specialize in digital business solutions that go far beyond traditional "internet marketing" services. Technology solutions should help every part of your business run better, while being designed to achieve the following:
Create Connections
Visitors must be motivated to do more than just click. They must convert...and then they need to come back.
Inspire Customers
Inspire customers to share your products, services and business with others and achieve the ultimate goal.
Empower Employees
Your employees are your most valuable resource. Help them excel by putting the proper tools in their hands.
Digital Business Services
I've always said...digital marketing as a whole, and SEO in particular, are a lot like an old set of christmas lights. Until you get every single one of those bulbs/nodes working correctly, the thing just isn't going to light up.
In the end, does it really matter how great your store looks if you've built it out in the wilderness where no one will ever see it? Design and development PLUS proper configuration is what gets it done.
Would you ever strategize sending your team off to the big game without their proper gear? It's time to get your business and employees properly outfitted so they are ready to truly compete.
In the end, it ends up costing a whole lot more to hire the wrong people than it does to make sure you are finding, hiring and properly training the right people.
The old adage goes, plan your work and then work your plan. Is there a worse place to miss the first step than with the foundation of your entire business?
Leverage enterprise level SEO to fortify what should be the foundation of your business.
I specialize in architectures for SEO leveraged website design and e-commerce sites.
Does your brand implementation and product positioning differentiate your business?
Manage and enhance your customer communications and sales pipeline focus.
Visibility of timelines and statuses for your business objectives will maximize progress.
Process development and automation to improve your recruiting, hiring and training.

Phillip Rather
Sr. Director, Head of LocalFacebook
"Matt Rauch is an incredibly hardworking and loyal business partner who has keen analytical ability and understands the best use of technology in marketing. His SEO skills are second to none and he successfully drives enterprise internet marketing plans through precise research and development. He is an asset to any organization."
Etienne Houseknecht
Head of Marketing
Dacor (Samsung Electronics)
Analyzing a situation and knowing where and how to strike is at the core of what Matt does best. He has amassed a significant set of skills in the SEO environment and has demonstrated on multiple occasions his value in being able to either jumpstart an existing product or accelerate the growth of a company's digital presence from initiation. In the short time I worked with Matt, he exceeded expectations numerous times with a wide variety of B2B and B2C clients. I would enjoy the opportunity of working again with Matt.
David Pratt
Search Engine Marketing Manager
CARFAX
"Matt knows his stuff when it comes to technical SEO requirements, including optimal site architecture and on page elements. He is up to speed on the ever changing search algorithms. He is also conscientious and a pleasure to work with."
George Stevens
President
Guidelight Business Solutions
"Matt is an expert at developing web marketing strategies.

I brought Matt into Guidelight to develop a new market area for the company around enterprise mobile solutions. Through his direct leadership of multiple web and SEO initiatives, the company benefited first from formally establishing a new presence in the mobile space, then growing our market share with a focus on enterprises with revenues greater than $1B. Guidelight continues to enjoy the results of the marketing strategy Matt established."

Jeff Sunshine
CFO & Interim CEO
Appiction
"Matt's SEO expertise proved invaluable at a time when our company was seeking to maximize its visibility and minimize its expenses. With Matt's help, we were able to cut our marketing spend to a fraction of the company's prior spend - and yet still realize much greater results. Shortly after Matt "optimized" our website, the company cut all marketing spending.

It is still hard for me to believe, but over a year later the site still ranked among Google's top results across the most relevant keywords. Matt is hard working and can push forward with little direction required. If one needs SEO or digital marketing help, they would be wise to contact Matt."
Olaf Jonsek
Director of E-Commerce
360training
"Matt is a true expert in SEO and UX. His analysis provided sound and logical recommendations for our SEO efforts that were overlooked by many other SEO consultants. Not only does he have the expertise - he also is able to communicate the findings and priorities accordingly to all stakeholders: from IT teams to executive sponsors. Matt is a pleasure to work with as well a key strategist for search engine optimization."
Christian Watson
E-Commerce Director
Observint Technologies
"Matt provided us with a high level of SEO expertise, particularly on the technical side as it related to how our e-commerce website was set up. This enabled us to implement important on-site SEO changes without negatively impacting the functionality and usability of our site.

In order to understand what changes we needed to make, and how best to apply them, Matt always took the time to explain in detail what was necessary, even down to going through the source code to identify exactly what needed to be modified.

Matt has a an extensive knowledge of SEO -- both onsite and offsite -- and was able to keep us up-to-date with the latest changes in Google's algorithm so that we could make adjustments to our SEO strategy as needed."